My pastor has been preaching through the book of Judges for the past few months.  It has been fascinating.  The book of Judges is a great reminder that our sovereign Lord is the only true and righteous Judge.  In addition, we see that man is utterly sinful, and that God is capable of redeeming the sin we commit – simply amazing. 
A couple key verses from the book:
And the people of Israel did what was evil in the sight of the Lord and served the Baals. – Judges 2:11

In those days there was no king in Israel. – Judges 18:1
Over and over and over again, Judges tells the story of a people who served false gods and leaders who corruptly ruled.  The book records a downward spiral of morals and sin.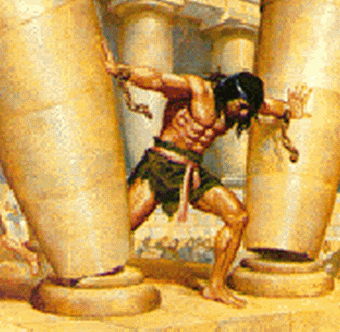 Growing up in the church, I often heard the story of Samson and Delilah.  Of course, the story was a little scandalous for Sunday School, as Samson's downfall was beautiful women and Delilah was – after all – a prostitute.  The picture to the right is what I usually recall of Samson's life.  In fact, I had a picture-book story Bible when I was little, and it had nearly this exact picture.  The only difference is that my picture showed a close up of Samson's eyes gouged out . . . the editors of that Bible did a good job of scaring me into obedience . . . I certainly didn't want my eyes to be gouged out like Samson's.
This past Sunday, the text fell to Judges 16 – the  account of Samson and Delilah.  I must shamefully admit that I did not walk into the sanctuary Sunday with an expectation of what God would teach me through the sermon.  I had the story Bible with the grotesque picture – that told me what I needed to know, right?!  I was wrong . . . I learned a lot.
I find that it gets easier and easier to point my finger at people in the Bible over their disobedience than it is to examine my own heart and know what it is that God could teach me through their example.  This is true with the story of Samson.  This past Sunday, I was challenged to look at the text from a different angle.  Here are the key points:
Being called by God means that there will be conflict, not comfort, in store.
God's plans will be fulfilled, even through our sin.
"God's glory is His ultimate purpose" [Piper].
Samson was indeed guilty of the sins he committed.  However, God's redemptive purposes are more comprehensive than the most treacherous sin we could commit.  Despite his lack of morality, faltered character, haughty spirit and prideful actions, the Lord still used Samson to bring thousands of dagon-worshipping Philistines to their death.  In grace, He allowed Samson victory over those who worshipped idols.  I love Judges 16:22: 
But the hair of his head began to grow again after it had been shaved. 
Don't miss that – his hair grew back.  Remember what has just happened:
God commands that Samson's hair shall never be cut, as a symbol of God's Spirit upon Him.
God called Samson to rule as a judge.
Samson exchanges God's blessing for a life of debauchery. 
He joins himself to a prostitute – Delilah. 
He reveals the secret of his strength to Delilah.
He is then taken captive by the enemies of God. 
The Lord could have left Samson bald (which was, no doubt, a huge disgrace to Samson).  Rather, Scripture is careful to tell us that God allowed his hair to grow back.  God granted Samson enough strength to destroy over 3,000 Philistines in one, final act.  In order to refute the false god, dagon, the God of Israel reveals his grace to a disobedient judge in allowing him victory over the Philistines.  This is no boring story – it is full of drama, emotion and suspense.  More importantly, it is full of redemption and grace. 
Sunday morning, I was convicted of my need to be less critical and more teachable.  It might do me good every now and then to pick up a children's Bible and turn to the grotesque picture I looked at as a child .  . . just as a reminder of what the effects of sin can do in my own life.  May we be careful to learn from those who have gone before us.  While we can learn much through both their disobedience and devotion, we will hopefully grasp even more about God's marvelous redemption – even redemption of our sin.